Contact and access to the campsite
Contact the campsite
Telephone : +33 (0)4 71 00 54 02
Address : 3 Via Bolena, 43350 Saint Paulien
Mail: infos@camping-rochelambert.com
Latitude : 45.120186
Longitude : 3.793566
Reception opening times :
Low season : 8h30-12h / 14h-18h
High season: 8am-8pm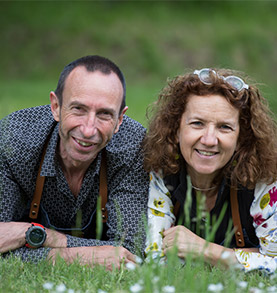 How to get to the campsite
Contact us :
We answer the phone and emails all year round. You can also contact us from our Facebook, Instagram or Google page. Don't hesitate to leave us a message if you don't have us directly.
A team at your disposal :
Magali, Michel and Nicolas are there for you all season long. The quality of the welcome is a absolute priority. On holiday more than at any other time we need to be recognised and to have a contact person who is attentive to all requests. We will be there for you. The campsite is labelled « Quality Tourism » and « Respirando »: we are committed to advising you on walks, activities, restaurants… We love the Haute-Loire, we really want to share it with you.
In July and August, a team of seasonal workers is at your disposal to complete it. It is reinforced by a head chef, an assistant cook, a children's club entertainer, waiters or waitresses, and additional cleaning staff.
Go to the campsite :
We are located in the south of the Auvergne at 15 km to the North-West of Puy-en-Velay.
From the N 102 there are signs to guide you to the campsite.
By road, coming from Paris you can choose to go through Lyon or Clermont-Ferrand. Coming from the South the A75 or A7 are efficient. Coming from the West, the A89 will be convenient.
If you come by electric car, we have a package and a charging station for you.
To come by train, the nearest station is in Le Puy-en-Velay. It is 15 km away.
Did you know that you can reach the campsite by plane? Yes, Loudes airport is only 5 km away.